Arbab Usmani | UppSkill | Start Up | The IndianPreneur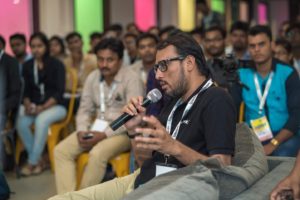 Name: Arbab Usmani
Designation: Co-Founder
Company: UppSkill
Links:
Portal: http://www.uppskill.com
Facebook: https://www.facebook.com/uppskill
Instagram: https://www.instagram.com/uppskill/
1.What gets you out of bed in the morning?
My passion towards a role which I am playing which I believe can help our great nation by creating skilled individuals.
2.Why should people choose your product/service?
Ideally, I do not consider education as a service or product. For me a teacher and student relationship is much more divine than a customer and business relationship, but if you ask what is our USP. Apart from the working knowledge we consider our biggest power is our 'honesty', we are very honest about what we do and we are super honest with our students 🙂
3.What inspired you to start UppSkill?
There are many things which inspire me to do this but the main thing is about skilling and upskilling professionals.
We have read some data last year of a survey which says 85% of graduates are not job ready in India because they lack skill, that is a huge number. If we see the education data then, 70% of students in India drop out after 12th because of lack of money, resources, family burden etc. That means only 30% are going for higher study and among this 30% students 85% lack skills to become employable. Then why we call it professional degree when they are failing to provide skill?
Another way of looking toward this is – to get a professional degree we spent around 20 years of life, at the age of 20-24 years we get a degree. Average life span in India is around 60-70 years. We spend almost one-third of our life chasing something which we think can change our life but in this case, we are going to most probably fail ( because 85% students don't gain skill). This is insane.
There is a huge valley between a graduate degree and being job-ready, we are not filling those gaps because it will take years to do this. We are building a bridge instead.
4.How much capital do you have and when do we expect cash flow break even?
Not gonna reveal how much capital I have but it is enough to keep us running at least for next 5-year:).
We were profitable from day one.
5. Who are the biggest competitors and how are they doing? If there are no competitors, why?
There are many International and national competitors, they are doing from past 1 decade, some of them are really good at what they do while some of them are scamming students especially in the name of Digital marketing courses. But we are not here to compete we are here to help the nation, so our biggest competitor is a year old version of us only.
6. What comes first for your money or emotions?
I am not a money-minded man, money only comes in mind if I have a need for it, human relationship is always above money.
7. Where do you see yourself in 5 years?
Building a skill-based private university with presence in all states in India.
8. If you had the opportunity to start this business again what would you do differently?
I could start with more capital because it could work as a catalyst but we are good now.
9. If you sold your company today, what would be the tone of the conversation? What would you want to gain? What would you want to avoid losing?
This is a tricky question, I am a person who actually calculates value rather than money, if hypothetically I have to sell the company, it will be sold to someone who is aligned with our vision, the one thing I want to gain is that they should not take my teaching as a clause this is what I want to gain and avoid losing.
10. What advice would you give to someone starting out?
Believe in yourself, people around you may say nasty things when you start out, the same people will bring sweets to your home when you succeed. Let passion drive you but do not let it blind you, avoid that and use data to steer you. Use passion as fuel, hard work as engine and data as the steering wheel of your life.