Interview with Shahid Javed | RVCJ
RVCJ.COM is among India's top 200 visited sites and RVCJ'S social media page reach spans to about 20 Million people across the nation collectively.RVCJ are in the social media business from the past 8 years and among the pioneers of "Viral" content! RVCJ level of organic engagement on social media are unparalleled as RVCJ are one of the most liked pages on Facebook nationwide.RVCJ have an extensive social media amalgam that spreads to all target groups like sports, Girls/women oriented, Regional languages, Technology and lots more. RVCJ collectively own close to 20 pages at this point.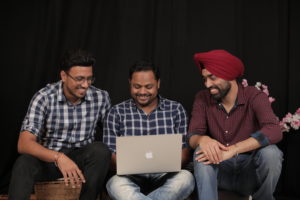 1. What gets you out of bed in the morning i.e what's your source of motivation?
My most important source of motivation would be the fact that it's a new day, with an endless array of possibilities. For me, each day is unpredictable and that is what keeps me going.
2. Why should people choose your product/services?
The answer is simple. At the end of the day, people want content on social media that helps them take their minds off things, something that gives them a break from reality. That is how we design our content at RVCJ Media. Moreover, our team is driven, passionate and focused on the bigger picture.
Our posts and content also provide a unique take on things. We are also completely unbiased when it comes to sensitive issues like religion, nationalism and other such factors. That ensures that our content has integrity, giving us a competitive edge.
3. What's your competitive advantage and why can't it be copied?
I think our competitive advantage is the fact that we cover news and content of various kind, we have not restricted ourselves to any particular category. From quirky videos to memes, we have something for everyone. We have a very strong idea of who the target audience is, and ensure that our content caters to them. It is relatable, real and humorous. That gives us an edge.
4. What risks are you facing?
As far as risks are concerned, I'd say the competition we face. At present, digital media is the future and almost everyone's waiting to join the bandwagon. We may be one of the largest and oldest media platforms in the country, but there are numerous other organizations in the same field as us. So we constantly have to strive to come up with something unique that sets us apart.
5. Have you considered any alliance/partnership?
We have not considered any such partnership or alliance yet, we have not felt the need to do so yet.
6. What are your cash flow projections? When will you break even? How much will you need in investments?
We've bootstrapped startup. We're already profitable venture and we are close to making 1 million dollars in revenue this financial year.
7. What comes first for you money or emotions?
Emotions, any day. When we started this company, we had only one goal in mind – to provide the public with light-hearted, fun humorous content which would give them a break from the hustle and bustle of daily life. Today, we are a family and together, we cater to serve our audience. In fact, emotions form the very foundation of our family here. So, yes, emotions always come first.
8. What are your strengths and weaknesses?
My biggest strength, I believe, is the ability to grasp what the viewers really want. I have extensive experience in the field begin an MBA graduate and have a solid idea of social media and how it really works. I also have a tendency to keep going despite any difficulties or obstacles, I never give up. That has helped me get this far and has helped me make a difference.
Also, the fact that we had faced terrible hardships when we first started out humbles me in many ways. I started the page from scratch and believed in myself, which is also one of my biggest strengths.
9. Tell me about an accomplishment you are most proud of.
My biggest accomplishment, without a doubt, is my brainchild, RVCJ Media. Initially, it started out as merely a page where we shared jokes and memes. And this was back when people were just beginning to understand what memes were.
Now, we're one of the biggest digital media platforms in the country. We cover breaking news, serious issues, memes, jokes, hilarious videos and so on and so forth. We have given the youth of today a voice, and that is what I am proud of.
10. How do you handle the pressure?
I'll not lie, to keep our website up and running, all of us are under tremendous pressure at all times. However, I get through with the support of my friends and my family. My kids are my stress busters, and spending time with them after a long day's work is how I deal with pressure.
11. If you sold your company today, what would be the tone of the conversation? What would you want to gain? What would you want to avoid losing?
Oh, that is out of the question! We're not looking to sell the company unless someone gives a billion dollar offer that we cannot refuse. Even then, that is something we aren't even thinking of at the moment.
12. What advice would you give to someone starting out?
There is one piece of advice I would like to give – Don't ever stop believing in yourself. There are going to be numerous obstacles along the way, and a lot of people are going to try to hold you back. But you have to keep moving forward, keep thinking out of the box and keep your eye on the goal.
13. What is the most important factor when it comes to viral content?
My answer to this would be visually strong content. See, when it comes to viral posts, people want their news quick. They want it immediately, and images and visual content are the best ways to go. Make sure your posts have a fine blend of humour and emotion in them, and that should help you succeed.