Meet Anshul Saxena – Who Is Becoming A Nightmare For Anti Nationalists
If you are active on social media following the updates on Pulwama attack then Anshul Saxena is not an unknown name for you. There is one name which is heard and discussed everywhere, that is Anshul Saxena.
Who is Anshul Saxena?
Anshul Saxena's twitter handle says that he is a news junkie who is interested in politics, foreign affairs, and national security. Talking to a Youtube channel named 'The Sam Sharma Show', Anshul has said that he is very much interested in giving out the right information with facts to the audience. He's been doing this on his facebook page and twitter handle but what happened on Feb 14th has really turned this lad to do something really big.
When the whole nation is mourning over recently martyred CRPF soldiers few people on social media are explicitly or subtly making fun of the attack on India's Bravehearts for whatever reason. Anshul Saxena, a political commentator with a verified Twitter account, has asked people to send the links of those showing their true colours by making fun of Pulwama.

Anshul started finding people who were celebrating the attack on our martyred soldiers and with the help of cyber police started attacking them over social media.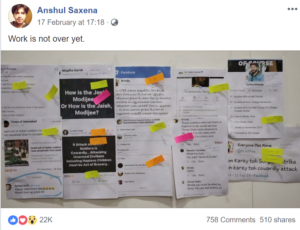 Words of appreciation are flowing for Anshul Saxena and within these 3 days, his page has got 3 lakh + followers. Even India's Prime minister Mr Narendra Modi is following him on Twitter. Anshul has set a clear example to show what A simple common man is capable of.
There's information which is going viral on social media that Anshul has hacked 70 Pakistan Government websites. However, it is not true as confirmed by Anshul himself on his twitter handle.