Interview with Rajnish Jain | Crossword PR
A Global Communication firm that specializes in information distribution solutions for communications professionals across India, Middle East & Asia. We connect organizations and communicators with their target audiences – the media, consumers, clients and investors – through our unique delivery model and an unparalleled network across 300 cities in India.
Links
Website: www.crossword-pr.com
Facebook: https://www.facebook.com/crossworpr/
Twitter: https://twitter.com/CrosswordPr
Linkdin: https://www.linkedin.com/company/4814606/admin/updates/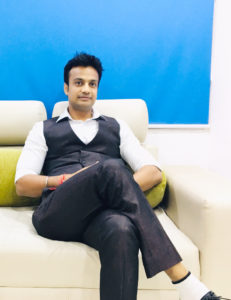 1. What gets you out of bed in the morning i.e what's your source of motivation?
For me, every day is an opportunity to learn and do something new. All my efforts are focused to make the most of each and every day. The thing that drives me to work is the dream of becoming a successful entrepreneur. This is the very reason, I started this venture (Crossword PR) and now this has become my inspiration towards which I am working every day. Apart from this, the sense of achievement and responsibility, that although I belong to a family where everybody does a job, I am the one running my own business is something that that encourages me.
2. Why should people choose your product/services?
The idea behind setting up my Public Relations (PR) company is that I always wanted to give all kinds of PR, Social Media and digital services under one roof and at a reasonable price than that of other agencies. We put our best efforts to make our clients satisfied with our work. I look forward to not only gaining new clients but retaining the old ones which is a difficult task today due to the stiff competition. I think this is the sole reason that I work with clients on regular basis.
3. What's your competitive advantage and why can't it be copied?
The PR industry today is thriving with opportunities. New avenues like social media and digital services have given a boost to the industry dominated by traditional PR earlier. A number of communication specialists and PR agencies are present that gives a host of services and are our competitors. But at Crossword PR, we aim to not only meet the communication needs but aid in building the brand by engaging the correct target audience with the correct message. All this is done PAN India along with Middle East & Asia at reasonable prices which not only help established brands but startup companies to establish their name in the market.
4. What risks are you facing?
It is a fact that the PR Industry in India is full of opportunities but this is accompanied but stiff competition in the market. The challenge is to break through the clutter and get your company noticed. Also, recruiting efficient team members with equipped PR skills is a challenge that we face.
5. Have you considered any alliance/partnership?
No, I have not considered any alliance or partnership till now. If required in future in line with the future plans, it is a viable option.
6. What comes first for you money or emotions?
Money is important to run the business while emotions are useful while dealing with people in business. Thus, both are equally important.
7. What are your strengths and weaknesses?
A positive attitude and way to deal with people are my strengths which helps me to maintain an environment in office where ideas can thrive and people feel comfortable to share their views. The weakness that I want to get rid of is that I am very emotional which at times turns to be a disadvantage for me.
8. Tell me about an accomplishment you are most proud of?
Some of the biggest accomplishments are that we have cracked some of the top clients for PR services with our firm like California Almonds, Digisol, HP, WAI WAI noodles, Safeducate, Raymond, Get My Parking, IDSA and also done PR for celebrities like – Shivangi Joshi , Anita Hasandani. Apart from this success in terms of work I have accomplished a very hardworking team which includes social media manager, Image Consultant, PR Manager and many more. My team has been my backbone and I believe having such a wonderful team is my biggest accomplishment. All these are very close to my heart.
9.How do you handle the pressure?
As a startup founder, I always want to meet the client expectations and if possible, reach above it and deliver satisfactory results. This indeed creates immense pressure. For me, there is no greater relief than a happy client. We put our best efforts to make our clients satisfied with our work. I look forward to not only gaining new clients but retaining the old ones. Also, I also look forward to expanding my business globally in next two-three years. The best way to handle all this is to always remain positive and keep oneself motivated.
10. If you sold your company today, what would be the tone of the conversation? What would you want to gain? What would you want to avoid losing?
Firstly, I never thought of selling this company as this is my dream. Selling this company means selling my dreams, which I can't afford.
11. What advice would you give to someone starting out?
According to me, honesty and hard- work are the key elements before starting any business. These can drive your business to long- team success and would ensure a happy and positive environment. At the start, patience is the key as it takes time to achieve the required results.
12. Tell us about yourself, your previous jobs/ventures? What were you doing before this startup?
Before starting my own PR venture, I was adamant to have an in- depth knowledge of the subject so that I don't make mistakes at the basics at the time of inception. So I made sure that I have enough and relevant experience. Thus, I worked for around 8 years in other PR firms. The advantage that this gave me is to avoid the mistakes at the starting and have an idea about the effective working of a PR agency.